Are You Ready For Great Entertainment?!
Welcome to the home of HOT PARTY ENTERTAINMENT, featuring "popular" Hot Party DJ's, Live Event Bands, Ensembles, Photography, Videography, "Famous" Entertainment, Expert Event Production and Professional Audio Services. Renowned for our high-quality professional services, we offer competitive pricing, with DJ-Photography-Videography packages available for WEDDINGS, BAR / BAT MITZVAHS, SWEET 16s, QUINCEAÑERAS, CLASS REUNIONS, PROJECT GRADUATIONS, FUND-RAISERS, CORPORATE EVENTS and more!
WEDDING SPECIALISTS
FABULOUS, HIGH-ENERGY BAR/BAT MITZVAHS
DANCE CRAZED QUINCEAÑERAS and SWEET 16s
SIZZLING CORPORATE EVENTS
MONEY MAKING FUND-RAISERS
Additional add-on features, such as PHOTO BOOTH / VIDEO BOOTH, KARAOKE, High-energy DANCE MOTIVATORS, BALLROOM DANCERS, INTERACTIVE GAMES, RIDES and so much more are available.
Guaranteed Quality Services, Since 1992. Serving all of New York and New Jersey, with over 6,000 repeat customers!
Make your event exciting and memorable! Choose from an array of our professional entertainment services available for the simplest of affairs...to the most extravagant events. Incredible state-of-the-art lighting packages, visual effects, staging, and sound reinforcement systems for small venues, to large scale arenas (Indoors and outdoors), are available!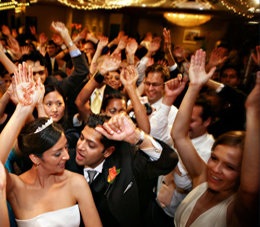 Experience our expert Event Production Planning Services for Weddings, Bar / Bat Mitzvahs, Quinceañeras, Sweet 16s, Class Reunions, Corporate Events, Fundraisers, Festivals, Project Graduations, Proms and more. Let us stimulate your imagination and creativity, as we help you achieve your vision and the ultimate party or event!
Experienced professionals
Fully insured
Competitive pricing
Guaranteed quality services
From all of us at Hot Party Entertainment...
We hope that you enjoy your visit. Thanks for stopping by, and we look forward to the prospect of entertaining you!
Call us: (201)-501-0567 
E-mail us at: MyParty@HotPartyEntertainment.com
All Major Credit Cards Accepted!
You must install Adobe Flash to view this content.
Disc Jockey  Photography  Videography  Live Entertainment  Karaoke  Photo/Video Booth  Dancers  Distinction  Novelty Giveaways  Event Production TEAM 3 Services 
Sound Production  Rock Jam Series  Ensembles, Vocalists  Event Bands  Famous Entertainers  Photo Gallery  Video Gallery
Weddings  Bar/Bat Mitzvahs  Fund-raisers  Corporate Events  Sweet 16s  Quinceaneras  Class Reunions  Special Events
Website by HOT PARTY ENTERTAINMENT LLC. Copyright-2016 All Rights Reserved!
Comments :Webmaster@HotPartyEntertainment.com